Lil' Griff, our junior mascot
Meet Lil' Griff, he is our juniors mascot, and definitely has his own reasons for being part of our Griffin Archers family, Our juniors have the added jeopardy that he likes to fly away like an arrow, so they will definitely have their hands full!!!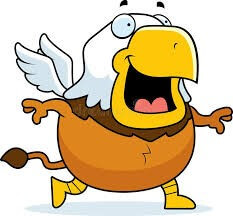 He is brave like a lion and bold like an eagle, but he's a junior archer, so needs supervision. Being a descendant of the kings of air and beasts, he has a big attitude. So he is always thinking of ways to get our junior members (and their families) in trouble.
As part of our Archer of the Month award, he goes home with whichever junior is awarded this. They then have an option to send photos or videos in order to blog his time with them. Before they bring him back in time for the next month's nomination.
We look forward to publishing his adventures with our junior members, and hope that he doesn't get them in too much trouble with their parents!
If you should be lucky enough to meet Lil' Griff, be sure to say Hi – he'll love it!
---
There are a few rules for our juniors when looking after Lil' Griff:
RULES
Look after Lil' Griff, he likes to try his wings, be like an arrow, and "FLY".
Don't feed him Baked Beans or Chilli, his farts are legendary.
Please take photos, draw pictures, write diary entries, blog posts or articles about your time with Lil' Griff.
Do bring him back on or before the date he is due to go to the next archer.
Always keep him clean, he can be wiped down with a damp cloth.
Don't let him tease your pets as they may want to bite him if he is rude!
Be sure to feed him fruit or vegetables and salads.
Stay polite and practise good sportsmanship so that Lil' Griff copies you.
Have lots of fun and adventures with Lil' Griff.
Remember, Lil' Griff wants you to be the best Archer that you can be.