Getting started is easy with Griffin Archers …

It can be very intimidating to start a new hobby. However, here at Griffin Archers, we have a full team of Archery GB certified coaches that are available to guide and assist you in your learning archery journey!
Taster Session
If you have never done archery before, we encourage you to come along to a free taster session. These are currently one hour sessions so you can try out the sport and see if it's for you!
Interested? Please contact us using this contact form so we can get you started!
(Please note, we are following all precautions set down by the government and our NGB regarding the COVID-19 pandemic, and all our equipment is wiped down frequently. We also provide gloves and masks for our coaches (unless exempt), as well as having social distancing in place.)
Beginners Course
After your taster session, if you decide you want to do more archery, we have a Beginners Course that can teach you the basics. This is required if you wish to become a member of any archery club in the UK. Although required, we make sure it's super fun and interactive!
At the end of the completed course, you will get a certificate which you can take to any Archery club you wish to join. This certificate proves you have completed the minimum standard training for any archer in the UK.
What do you need for a Beginners Course?
First of all, we require every beginner in archery to:
Wear closed-toe shoes (Sandals, Flip-Flops, Crocs etc, are not acceptable footwear for a range)
Tie their long hair back (if applicable)
Not wear any loose clothing or any garment that has 'ties' which could catch in a string
Take out piercings (nose, eyebrow and/or other piercings (if practical to do so)
Wear long or dangly earrings
These safety precautions are essential to keep you safe.
Important information about the Course
You do need to attend all of the sessions in order to receive your pass-grade certificate
We accept anyone and everyone that wishes to take part, and are very disability inclusive
Our venue is wheelchair accessible
If you have any specific requirements, please contact us here
How much is a Beginners Course?
Per adult – £60
Per Child – £40
This is to be paid prior to the start of the course and is non-refundable. Our preference for payment is by bank transfer. If you wish to use an alternative method, please contact us to discuss. You can also make contact directly to our club secretary by emailing secretary@griffinarchers.co.uk
Am I old enough?
Under 16's must be accompanied by a parent or guardian.
From 16 to 18 years, we recognise your need to be independent and can work with you to make this possible, and acceptable for both parents and you as an individual.
Any vulnerable adults can bring a friend or carer with them if they feel this would make them more comfortable. Here is our Safeguarding policy which works in conjunction with Archery GB.
Equipment and Safety
We provide all equipment you could possibly need on the Beginners Course – so just bring yourself!
A safety talk, warm-up and cool-down exercises are included in the course to prevent muscle injury. Our coaches are trained to ensure you are doing everything as safely as possible. It is essential you listen to our coaches and follow their instructions, as everything they say is for the safety of yourself and others.
Of course, we need to remember that this is classified as a dangerous sport, therefore we want to set you off on the right path for safety alongside the enjoyment, personal achievement and even the social aspects. Archery is actually one of the safest sports you can try? It's true! Archery is safer than football, rugby, basketball, baseball and even golf.
Terms and Conditions
The terms and conditions for the Beginners Course can be found here.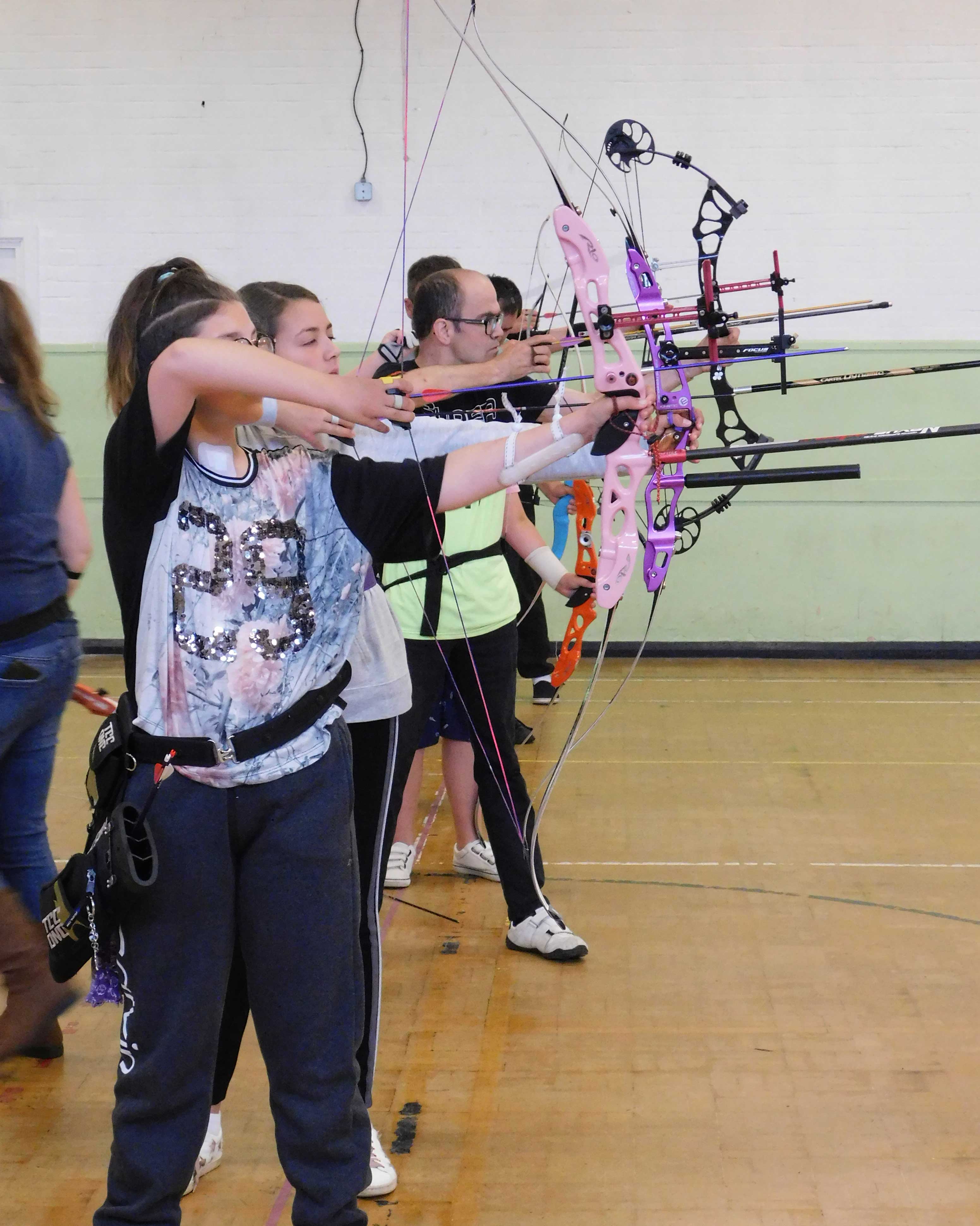 It's been a while since I've shot a bow, what are my options?
If:
you have done archery before, and been certified previously
or
have previously held an AGB membership which has lapsed
You can still join us!
It's easy getting started again, all you need to do is talk to us! Our coaches can assess your performance and bring you up to date with current Archery guidelines. We may advise you to re-take a beginners course or a Refreshers Pathway assessment.
Do you have any more questions about joining us or about Beginners Courses? Don't hesitate to contact us!
If you'd like more information, a good resource is 'The Archery for Beginners Guide Book', which is available from the Archery GB online store.